Who is ControlCase InfoSec?
India based company with HQ in Mumbai and with International Operations covering CEMEA and APAC markets
Leading company focuses on solutions related to ISO/IEC 27001.
Accredited certifying body for ISO/IEC 27001 by RvA (C 584), Netherlands and NABCB (005), New Delhi.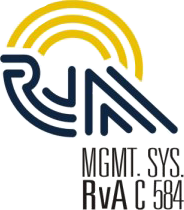 Our Accreditation:
ControlCase InfoSec has been accredited by Raad voor Accreditatie RvA (C 584) in the Netherlands and National Accreditation Board for Certification Bodies NABCB (005) in New Delhi for providing certification services. This accreditation provides confidence to you that we have been assessed and complied against international standards such as ISO/IEC 17021. The certificates issued by us are credible in the international market.